Quality assurance and food safety have become the number one concern among consumers. Repeatedly consumers read or hear about new foodborne illnesses that have caused sickness and death. Food incidences in recent years have resulted in not only processors being forced out of business or realizing tremendous financial loss but loss of consumer confidence and product/brand identity. Furthermore, the results of foodborne illnesses have forced many consumers to seek other food alternatives, leading to decreased sales throughout the food processing, retail, and foodservice channels, negatively impacting the entire food value chain.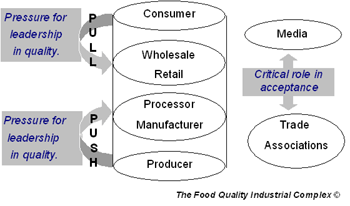 ReQuest's objective in developing any Quality Assurance Program is to minimize the risk of outbreaks while, at the same time, build a platform for value added products. In return, consumer confidence will increase for perishable food products and sales and consumption of perishable food products will increase in both the short and long term.

As with any ReQuest business solution, a Quality Assurance Program must also follow the same principles – the solution needs to either lower transaction costs or generate extra revenues. In the case of a Quality Assurance Program, both targets can and should be realized.


Lower transaction costs: based on its knowledge and experience in gathering and analyzing processes and data, ReQuest can identify and develop financial indicators. At ReQuest we refer to these indicators as Financial Analysis Critical Control Points (FACCP™). FACCP™ is used to segment points along the Food Value Chain. Based on a thorough analysis of the process, data points for improvement and financial gain are identified and put in place. This can tackle huge issues such as shrinkage, loss and waste perishable products.


Generate extra revenues: having a Quality Assurance Program in place allows for branding and product differentiation opportunities. Developing new products to meet the demands of consumers will have a significant impact on sales and consumption of perishable food products (i.e. meats, dairy, poultry/eggs and seafood in particular).

The area of quality assurance within the food industry has historically been fragmented. Although there are numerous programs designed to address quality, auditing or food safety issues, all have been devoted to one specific area within the supply chain be it producer tracking programs or consumer handling. There have been few attempts at linking all supply chain participants together under one Quality Assurance Program. Due to this fragmentation, past programs have seen little success. It is critical that the best procedures be sought and developed throughout the entire supply chain and integrated into one solution.

At ReQuest we have developed Data Exchange Interfaces (D.E.I.) technology to link the various data sources in the value chain. Instead of spending a lot of resources on developing new platforms with various users and authorization levels, these allow the various users to have access to the information they are entitled. The advantages are:

Low overhead because data is shared on the same platform.
Availability of data on an as needed basis.
Capability to track product through the supply chain.
Opportunity to optimize the logistical and warehouse process.
Opportunity to realize financial gains through the FACCP™ procedure.
ReQuest staff have experience in analyzing, developing and implementing Quality Assurance programs for various organizations and sectors. From modules to more integrated solutions, ReQuest offers these services based on its knowledge and/or in partnership with its extensive international network.